Functional updates to the heart of campus
overview of project
This year, Daniels has been hard at work repairing sections of the Memorial Union in downtown Madison. This space, open to the public and students, is a lively lakeside gathering space. Construction focused on keeping the building operational while repairing sections of the roof, exterior, railing, and more. Project manager Sean Hart and Superintendent Corey Rockweiler led the project.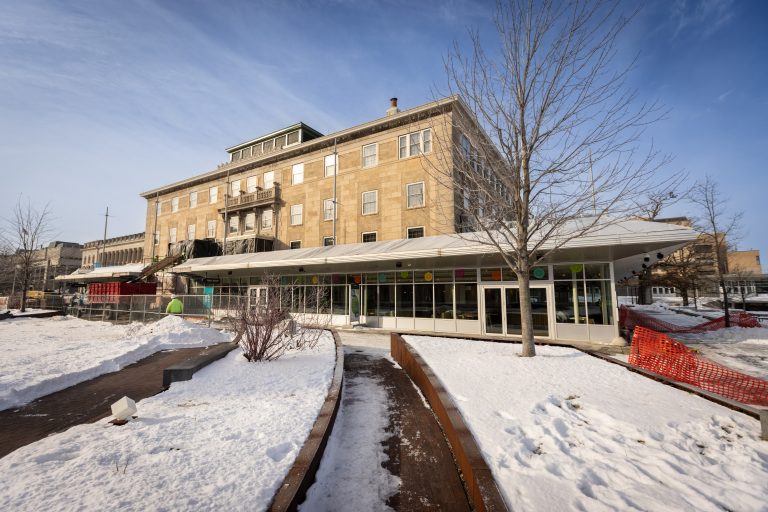 construction highlights
Theater and Tripp Commons Roof Deck Repair
The scope of this work included repairing the roughly 7,000 GSF exterior theater deck and roughly 10,000 GSF Tripp deck to address code, leak, and egress issues. On the Tripp deck, tent anchors were designed to withstand the structure of the three existing Union tents, currently used for events. The east Tripp deck egress stair was modified from the prior interior stair configuration to an exterior stair. This required removing the glass vestibule on the east and modifying the interior stair condition on the first and second floors. Additional lighting was installed along the exterior perimeter of Tripp Commons and along the railing.
Terrace Material Lift Addition
The design and construction of a terrace material lift at the Memorial Union replaced the existing nonfunctional scissor lift and addressed issues related to moving staff with trash and event equipment from the loading dock to the Terrace. The lift construction was executed in a way to preserve views across the Terrace from above as best as possible.
unique challenges
One unique challenge the team was able to overcome was maintaining egress pathways out of the building during constructions so the building could maintain its full occupant load. Daniels worked with the UW Environmental, Health, and Safety Manager and the Madison Fire Department to develop a plan. The project entailed removal of an interior egress stairway while a new exterior stair was built. It was schedule prohibitive to install the new stair prior to the removal of the existing stair so a temporary exterior stair was built to maintain egress paths. 
Additionally, much of the project was completed during the winter months but there was still activity through the middle of summer. Pedestrian traffic was very active once the weather warmed up. At times fencing was set up daily to allow construction activities to progress and moved back at the end of the day to not impact pedestrian traffic. 
learning opportunity for students
This spring, members of the Wisconsin Construction Club toured the active job site. President Sam Daniels and Superintendent Corey Rockweiler answered questions and Project Manager Sean Hart led a tour. We appreciated the opportunity to show these students aspiring to work in the construction industry what was happening in their own backyard. 
Learn more about our education & historical work